The World War I Centenary begins in 2014, and we're kicking off the commemorative events with a series of blog posts about the most important battles of Canadian history. Learn about the historical effects of each battle and Canada's role in each victory with our series about World War I.
Today marks the 99th anniversary of the Second Battle of Ypres, one of the most historically significant battles of both Canadian and world history. Fought in Western Belgium, the Second Battle of Ypres gained prominence as the first large-scale use of chemical warfare by the Germans on the Western front. Yet that's not the only way Ypres impacted history: it was also the first time a former colonial force—namely, the 1st Canadian Division—defeated a European power—the German Empire—on European soil.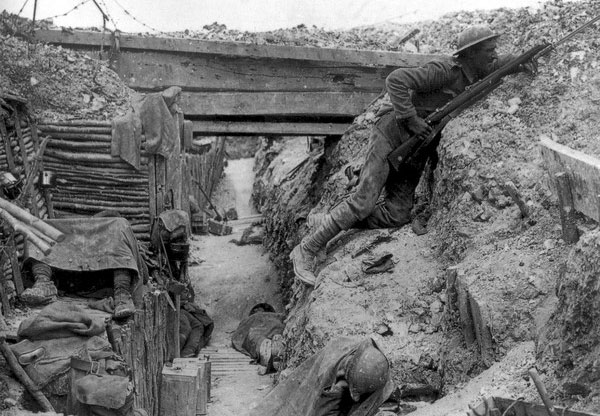 As a matter of fact, the Second Battle of Ypres was also Canada's first major engagement. On 22 April, 1915, the Germans released 168 tons of chlorine gas onto the Allied troops in Ypres, creating a 6,000 soldier-plus dent in the French forces fighting alongside the 1st Canadian Division.  The Canadian soldiers fought tenaciously to defend their exposed position, devising innovative (and not entirely pleasant) solutions to combat the effects of the poison gas unleashed by the Germans. After over a month of battle, the Canadian army had lost 5,975 men but achieved a defensive success. The soldiers were finally able to rest at ease, and the steadfast efforts of the 1st Canadian Division earned Canadian soldiers a reputation as tough and dependable troops.
To commemorate the events at Ypres today, the St. Julien Memorial commemorates the soldiers who lost their lives during this grueling battle of man versus element. Ypres Salient Memorial, also known as the Menin Gate Memorial to the Missing, also commemorates these pivotal points in the First World War.
Want to commemorate Canadian soldiers in Ypres? Visit the sites of the greatest battles of the nation's history on our Canadian history tours.
Relive victories of the Great Wars in Amsterdam, Bruges, Ypres and Paris. Commemorate the WWI Centenary at Flanders Field Museum restored from destruction at the Battle of Ypres.
Visit St. Julien Memorial and Passchendaele Canadian Memorial Park to commemorate the valour of the Canadian Corps during WWI.